By Colebrook Bosson Saunders
Ondo is a neat solution to the ever-increasing need to connect.
Its compact design with integrated cable management system is the antidote to desk clutter, creating an aesthetically pleasing and productive workspace.
Using high quality nylon braided cables isn't just about tangle-free convenience, they're also highly durable and built to last. Ondo's five year warranty is just the beginning.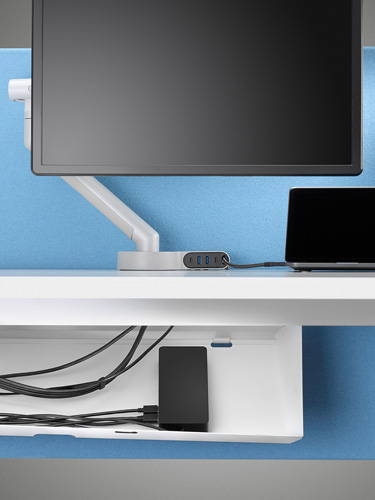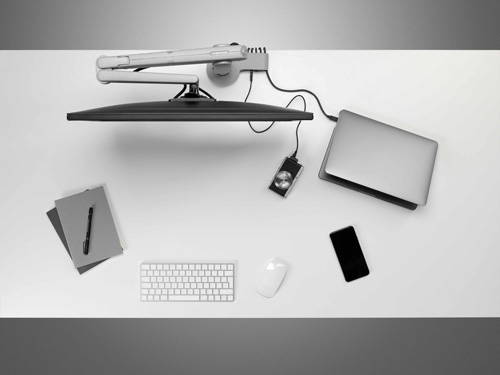 Ondo can be effortlessly retrofitted into existing CBS monitor arm systems to create a powerfully connected, ergonomic workspace.
It comes with a choice of three colours: black, dark grey or light grey.
Ondo is perfectly at home in any workspace.
Compatible with all docking stations with USB-A and C ports, Ondo sets you free to choose your own docking station from your preferred IT supplier.
Using the latest in charging and connectivity technology, its two USB-A ports and two USB-C ports ensure your access to power and data is both instantaneous and future proof.
Length: 183mm
Width: 100mm
Height: 29mm
COMPATIBLE WITH
Ollin Monitor Arm (not in stock)
FASCIA PORTS
2x USB-A Ports: USB-A 3.0, 5Gbps (Supports charging 5V, 1.8A max). Female socket to 1.3m cable to male connector
2 x USB-C Ports: USB-C 3.1 Gen, 1,5Gbps (Supports charging 5V, 1.8A max). Female socket to 1.3m cable to male connector
OPTIONAL LAPTOP CABLE
USB-C, 3.1 Gen 2, 10 Gbps. (Power delivery 2.0 capable, 60W max). Female Socket to 1m cable to male connector
COLOURS AVAILABLE
BLACK - DARK GREY - LIGHT GREY
box contains
Ondo connectivity module
Ondo Clamp mount
SHIPPING INFORMATION
We have stock in the UK that will be dispatched to you in 2-4 working days.
As soon as your product ships, you will receive a reference number that will allow you to track your order.
This product comes with a 5 year manufacturer warranty.
We also have a 3 month returns policy for items that are still boxed and unused. There is a 15% restocking fee.