Reduce Pain, Avoid Strain and Work Faster with an Ergonomic Wireless Mouse
RELAX AND LET UNIMOUSE DO THE WORK

Unimouse is an adjustable vertical mouse designed with a unique articulated hinge. It is designed to encourage a neutral handshake position.
This wireless mouse (and wired version) alleviates gripping pain and pressure on the base of the thumb, thus reducing repetitive strain injuries and allowing you to maintain a relaxed grip on the mouse whatever the size and shape of your hand.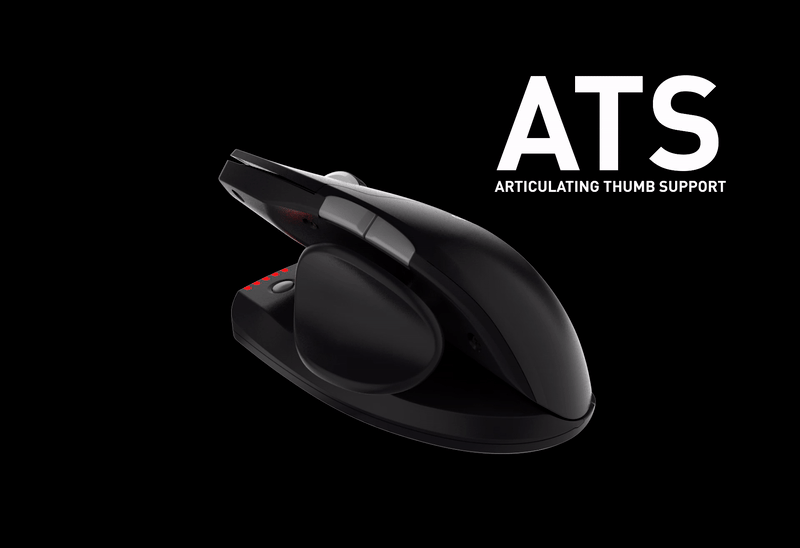 FULLY ADJUSTABLE & RELAXING
The patented articulated hinge makes it possible to adjust the angle of the mouse anywhere from 35 to 70 degrees. The friction-based locking system is easy to use and stable in every position. The moveable thumb support is adjustable in all directions: in/out, up/down, forward/backwards, inclination and rotation.
LET THE BUTTONS MEET YOUR NEEDS
Unimouse features six programmable buttons and a comfortable scrolling wheel to let you give free rein to your creativity.
For example, you can assign right-click functionality to the centre button if it feels better to work with the wired or wireless mouse that way. In fact, you can assign just about any task to any of the buttons so that they meet your specific needs.
One of our favourite reviews: "This wireless mouse has saved me from the torture!".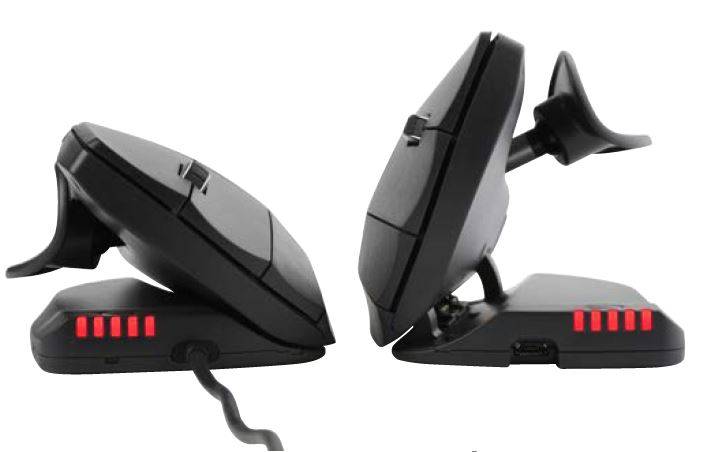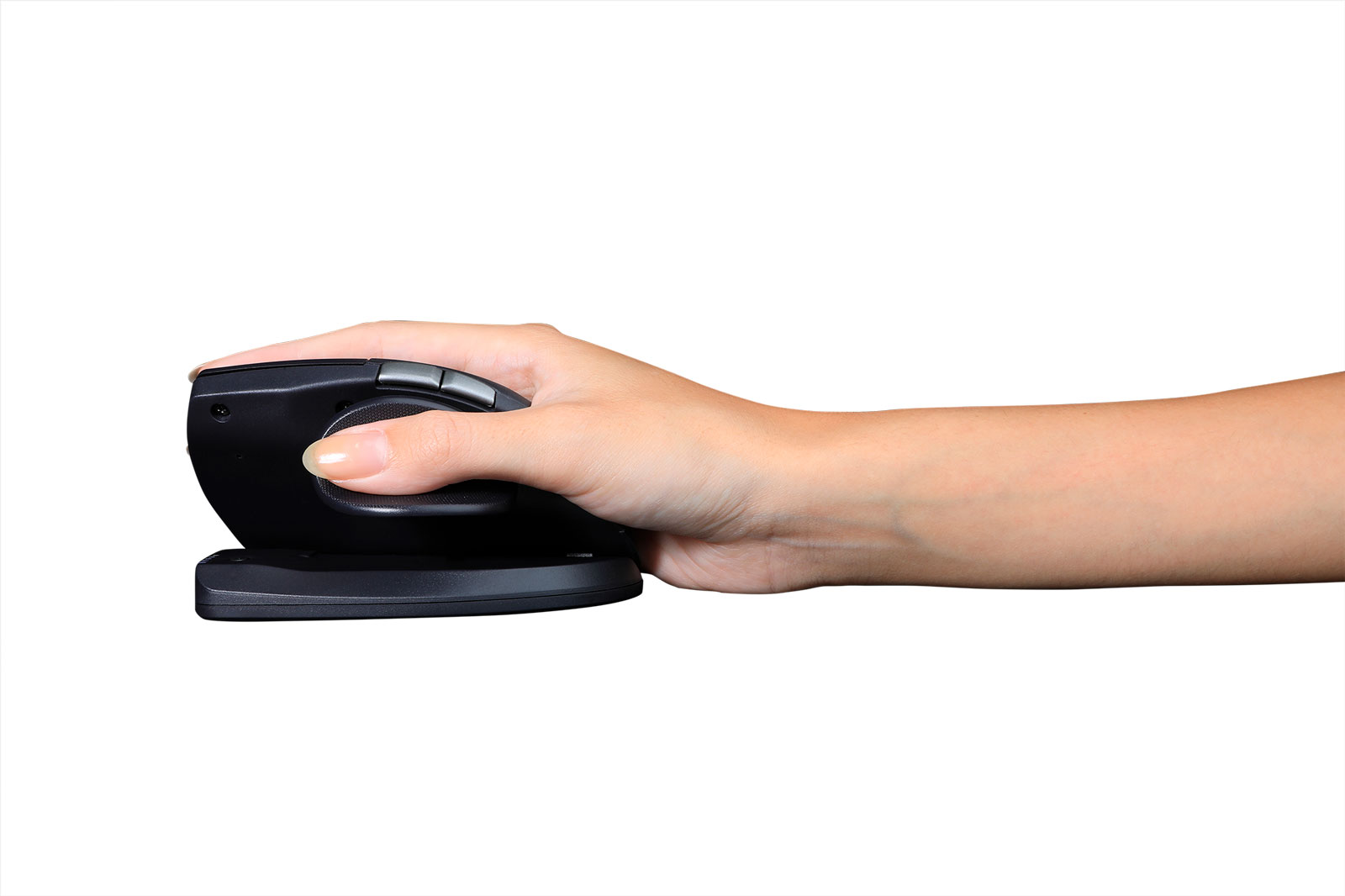 High Quality & Smart DESIGN

Unimouse offers the ability to alter the vertical angle allowing for pressure to be taken away from the wrist, a great solution for relieving pain caused by conditions such as carpal tunnel syndrome.
The additional movable thumb support allows for a relaxed grip and means that Unimouse is suitable for most hand sizes. Unimouse isn't designed for static posture, its designed to allow you to switch postures during the day, a great way to further minimise pain caused by repetitive strain injuries. Variation is key with Unimouse.

Unimouse is available in four variants:
Wireless and wired mouse. Right and left hand.
FUNCTIONS

A Right-click. Use the large right-hand button to right-click.
B Middle click. Use the middle button on the mouse for auto-scroll functionality.
C Scroll wheel. Rolls the page up and down.
D Left click. Use the large left-hand button to left-click.
E Back button. Activates the "back" function in most browsers.
F Forward button. Activates the "forward" function in most browsers.
G Thumb rest. Adjustable to any angle.
H Cursor speed. Adjust the cursor speed and precision.
I LED indicator. Indicates the cursor speed and battery level on wireless devices.
J Charge port. Mini-USB port for loading wireless devices.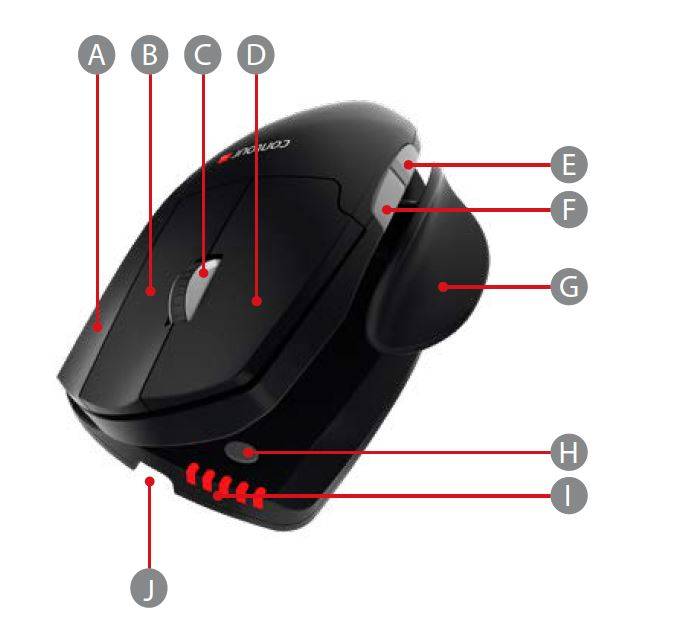 Unimouse has won the prestigious Red Dot Design Award for being a truly adjustable vertical mouse. The award reflects the high design quality of Contour Unimouse incorporating technical, performance and functionality innovations.
Watch Chartered Physiotherapist Stuart Nottingham talk about it here.
Tilt angle 35–70 degrees
Adjustment of thumb angle 35 degrees in either direction
Tracking method Optical motion sensor
Cursor speed precision (dpi) 800–2,800
Buttons/functions 6 (5 programmable buttons)
Versions Left- and right-hand versions, wired & wireless mouse.
Connection Wireless or USB cable
Weight (wired) 135.5 g
Weight (wireless) 141.5 g
Width 7.6 cm
Height 5.6 cm
Length 11.9 cm
Driver Plug-n-Play. Drivers optional for programming buttons.
Colour Slate grey
Manufacturer warranty 2 years from date of purchase
Compatibility OSX and Windows
SHIPPING INFORMATION
We have stock in the UK that will be dispatched to you in 1-2 working days.
As soon as your product ships, you will receive a reference number that will allow you to track your order.
TRY THE UNIMOUSE RISK FREE

Our refund policy is valid for 14 days. When you have tried the Unimouse, if you are not 100% satisfied you have 14 days to return it. Contact our support team who can advise on the best process.
This product comes with a 2 year (from date of purchase) manufacturer warranty. If your mouse is faulty for any reason please contact us.